INFORMATION FOR THE PUBLIC
Sign up for Local Hurricane and Emergency Notifications 
________________________
Local Health and Climate Fact Sheets
________________________
________________________
Fact Sheets
Contaminated Flood and Standing Water
Heat Waves and Poor Air Quality
Community Tool Kit: Building Coastal Resilience by Understanding and Responding to the Effects of Climate Change on Community Health and Wellbeing
This Tool Kit can help you bring awareness about the public health and safety aspects of climate change and sea level rise to your coastal community. We call the community outreach campaigns that use the materials on this website to educate and survey residents Rising Together: Temperature, Water, Health and Strength. The ReACT Tool Kit contains information, contacts, resources, and templates you can download. You can use them to bring specific health concerns to the broader community and to public officials; and to discover opportunities to build coastal resilience where you live.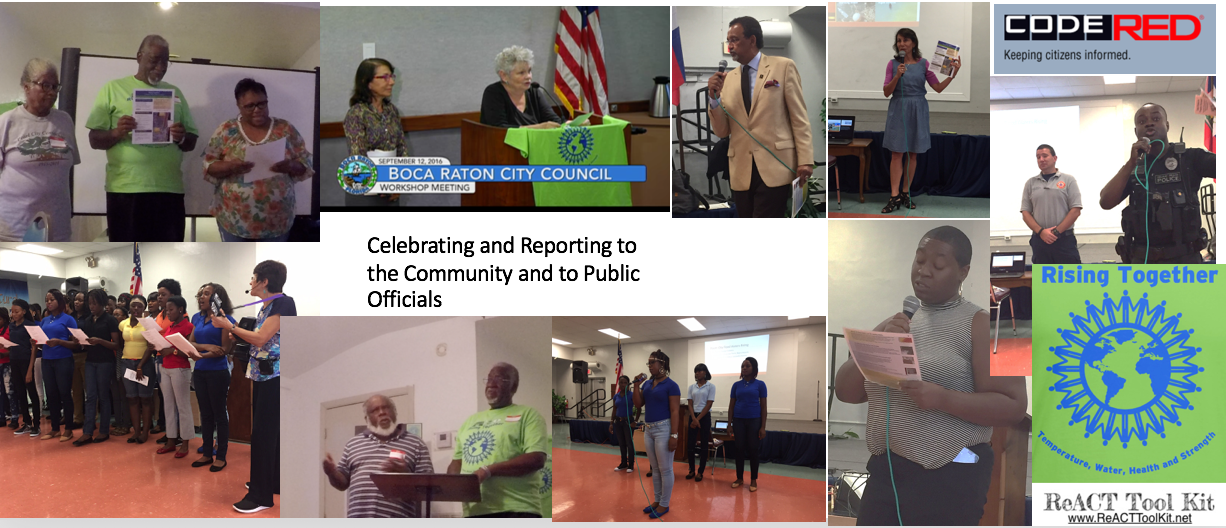 The interconnectedness and delicate balance of earth's natural systems means this change in concentration of gases in the atmosphere sets off a chain reaction of changes in water cycle, food web, land habitats and ultimately the dynamics of human populations. The changes in temperature seem to be small, only 2-4 degrees, but this overall increase in temperatures throughout all seasons has significant impacts. More…
The increasing concentration of heat trapping green houses gases, the resulting warmer temperatures, and related impacts of sea level rise, extreme rain and storm events, and possible droughts will have both direct and indirect impacts human health. This Toolkit addresses heat waves, poor air quality, safety during a flood, contaminated flood and standing water, contaminated drinking water, indoor mold, vector borne disease, and algae blooms. More…
Resiliency requires a vibrant public health education initative; one which provides citizens information and connection to resources that allow them to respond accordingly. Phone numbers for agencies that respond to health concerns at the federal level, in the state of Florida, in Palm Beach County, and in the municipalities of Boca Raton and Delray Beach are listed. Emergency radio broadcast stations and links to websites are provided as well. More…

RISING
TOGETHER 
COMMUNITIES
A Community Partner in each of
these locations has conducted 
a Rising Together Health and
Climate Outreach campaign, or 
is conducting one now.
________________________
Miami, FL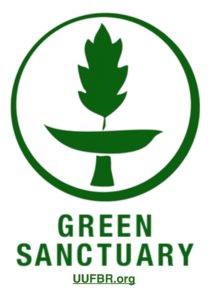 This website is a project of the Green Sanctuary Committee of the Unitarian Universalist Fellowship of Boca Raton. The community pilot projects, on which the Community Toolkit was based, were undertaken in partnership with Developing Interracial Social Change (DISC) and Habitat for Humanity in  Boca Raton, Florida; and Toussaint L'Ouverture High School for Arts and Social Justice in Delray Beach, Florida. Continued outreach in additional communities is a project of Unitarian Universalist Justice Florida.
Project Director                                Janice T. Booher, MS
Pilot Project Manager Phase I        Dr. Ana Puszkin-Chevlin
Pilot Project Manager Phase II       Debra Weiss-Randall, Ed. D, CHES
This project is funded in part by the Unitarian Universalist Fund for Social Responsibility.
Funding for this project was also provided by the Unitarian Universalist Fellowship of Boca Raton Endowment Fund.
Development of the ReACT Tool Kit and the Pilot Projects was funded by EPA Environmental Justice Grant #EQ-00D35415-0 awarded to the Green Sanctuary Committee of the Unitarian Universalist Fellowship of Boca Raton.
Website designed and maintained by Janice T. Booher